2022 February Food Festivals
A new month means new food festivals for us Melburnians to sink our teeth into. And the 2022 February Food Festivals do not skimp on the selection.
As the glorious summer weather continues, we invite you all to venture out and taste some of the best food events our city has to offer. Here are some of our most anticipated 2022 February Food Festivals.
Photo Credit: Melbourne BeerFest 2022 – Eventbrite
Melbourne BeerFest 2022 Presented by Little Creatures
Double the fun with a day and an evening session to choose from, BeerFest has something for everyone. Be transported on a journey of food and beer discovery with rare and exclusive concoctions from some of the best brewers in the country, coupled with delicious international gourmet street eats. Full of live entertainment and a wide range of activities, this is one festival you're gonna want to check out!
When: Saturday 26th February 2022
Where: Catani Gardens, St Kilda West, VIC 3182
Entry Cost: $12.97 – $33.41
https://www.eventbrite.com.au/e/melbourne-beerfest-2022-presented-by-little-creatures-tickets-214437728017
Photo Credit: Wine and Cheese Fest 2022
Wine and Cheese Fest 2022
What's a more classic pairing than wine and cheese? Honour this iconic couple at the ninth iteration of Melbourne's Wine and Cheese Fest at The Timber Yard. The event focuses on supporting and promoting amazing local producers whilst providing an entertaining, fun atmosphere for all attendees. Free tastings, masterclasses, live music and the legendary Grape Stomp Comp make for an umissable event.
When: Saturday 26th February 2022
Where: The Timber Yard, 351 Plummer Street, Port Melbourne, VIC 3207
Entry Cost: $0 – $208.85
https://wineandcheesefest.com.au
Photo Credit: FLAVAFEST – LiveNation
FLAVAFEST
With two dates and two diferent locations, FLAVAFEST presents the opportunity to experience a unique combination of music, culture and food. Pairing a superb line-up of live music with a complimentary range of local produce and arts, FLAVAFEST showcases the community's finest. An all-ages event, bring your family and friends to enjoy a great day out. Just book those tickets fast before they're all gone!
When/Where
Saturday 12th February 2022 @ Sale Golf Club, Rosedale-Longford Road, Longford, VIC 3851
Saturday 26th February 2022 @ Colac Turf Club, Colac-Lavers Hill Road, Elliminyt, VIC 3250
Entry Cost: $0- $79.90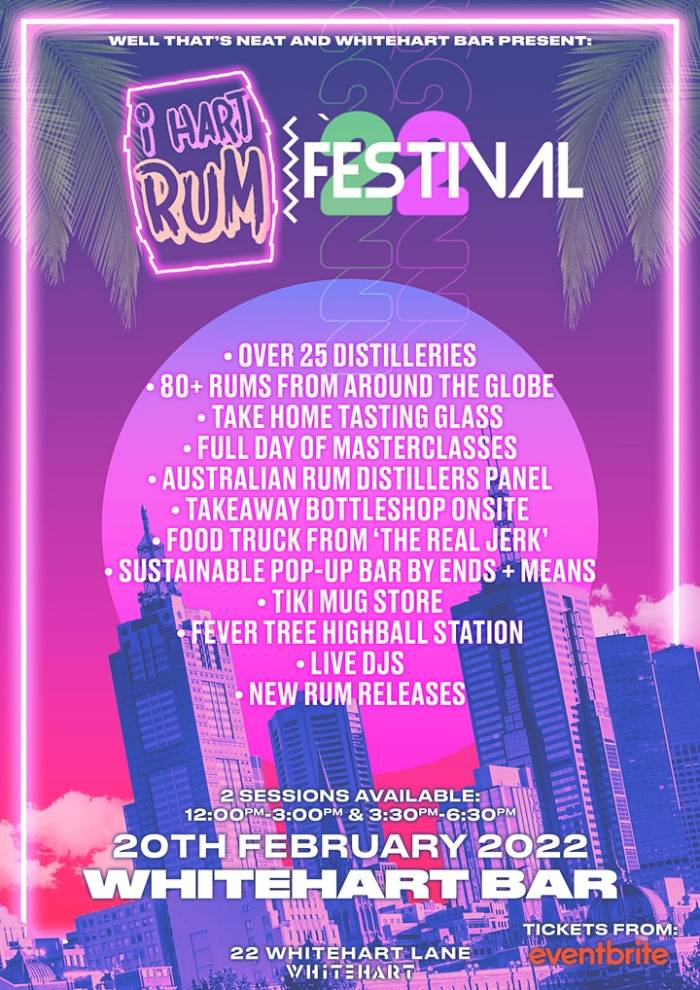 Photo Credit: I Hart Rum – Eventbrite
I Hart Rum
Embrace the spirit of the sugarcane with Whitehart's I Hart Rum Festival. You don't want to miss this amazing opportunity, promising tastings of over 80 different rums from more than 30 distillieries across the globe. Masterclasses, food trucks, DJs and live entertainment are just some of the extra features that will also keep you enthralled throughout the day.
When: Sunday 20th February 2022
Where: Whitehart Bar, 22 Whitehart Lane, Melbourne, VIC 3000
Entry Cost: $47.29
https://www.eventbrite.com/e/i-hart-rum-20202021-tickets-150141267573
Photo Credit: So Frenchy So Chic 2022
So Frenchy So Chic
Get ready to say 'bonjour' to some fabulous French flavours right here in Victoria. So Frenchy So Chic invites you to raise a glass of bubbly and dance the day away at its 2022 celebration of French culture. An abundance of fine food and wine along with fantastic music and great company awaits.
When: Sunday 13th February 2022
Where: Werribee Park, K Road, Werribee South, VIC 3030
Entry Cost: $22 – $207.23
https://www.sofrenchysochic.com
Keep up to date with all the latest foodie news and festivals with the Melbourne Food Festivals online directory.