Peel Street Festival
11 November, 2017 @ 12:00 pm

-

8:00 pm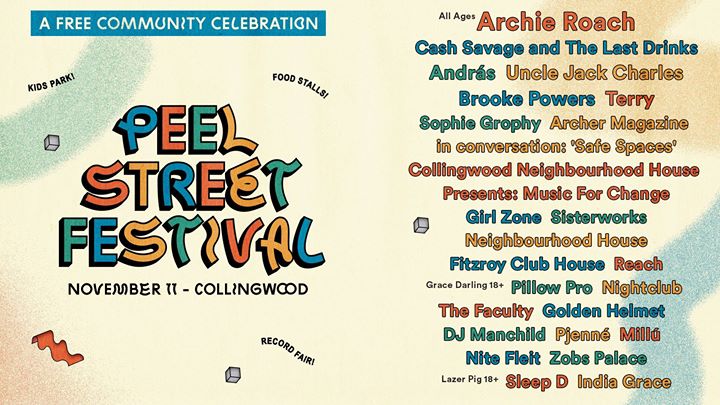 Introducing the inaugural Peel Street Festival, presented by The Grace Darling Hotel, local business sponsors and the Collingwood community at large. Featuring Archie Roach, Cash Savage and The Last Drinks, Terry and Girl Zone
On November 11th, Peel Street in Collingwood will transform into a wonderland of vibrant community celebrations as the inaugural Peel Street Festival takes place.
Held on the tree-shaded street of Peel Street in Collingwood with a line up featuring some of the best local music, food, community stalls, record fair, interactive kids park and much more, Peel Street Festival was designed to bring the community together.
​The festival is a community event, all ages and free.
The Peel Street Festival is proudly supported by Grace Darling Hotel, Nelson Alexander, Mountain Goat Beer, Bacardi, The Friendly Moving Men, Plakkit, PBS 106.7FM Melbourne, Noisey and the tireless work of voulunteers.
What: Peel Street Festival
Where: Peel Street, Collingwood
Date: November 11, 2017
Time: All ages event, Noon – 8pm. After 8pm, +18 only.
Featuring: Music, arts, stalls, activities, kids park
Cost: Free!
Artists: Archie Roach, Cash Savage and The Last Drinks, András, Uncle Jack Charles, Brooke Powers, Terry, Sophie Grophy, Archer Magazine in conversation: 'Safe Spaces', Collingwood, Neighbourhood House Presents: Music For Change, Girl Zone, Pillow Pro, NIGHTCLUB, The Faculty, Golden Helmet, DJ Manchild, Pjenné, Millú, Nite Fleit, Zobs Palace, Sleep D, India Grace.
The Peel Street Festival is an all ages, family event and is stricly alcohol free outside of licenced areas.
Note – parking is tough around Collingwood at the best of times and it will be event harder this weekend! Please take public transport (86 Tram) or ride your bike to the festival.
This event will take place on ​the ​stolen lands of the Wurundjeri people of the Kulin nation. We pay our respects to elders past and present, and acknowledge that sovereignty has never been ceded.